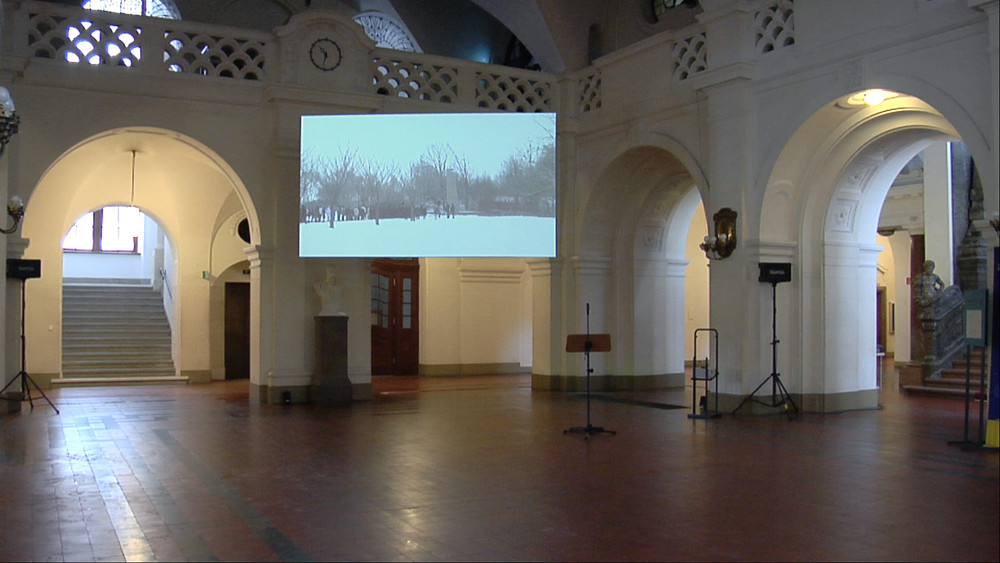 Abtnaundorf is a group work by Jakob Argauer, Danny Degner, Melody Panosian and me. It was part of the 2013 exhibition "Places You Should Know — Traces of National Socialist history in Leipzig" ("Orte, die man kennen sollte") at the Academy of Fine Arts Leipzig.
This is a crude translation the original text (written collaboratively, here with minor edits by me). See project website and the original text (in German).
Each year, on January 27, the city of Leipzig holds a service for the Victims of National Socialism Rememberance Day. It takes places at two locations. Shuttle buses take the attendees from Leipzig's town hall to the Abtnaundorf memorial for the main part of the memorial service.
On January 27, 2013, we took part in the city's official proceedings with a video intervention, a publication and a speech. Beginning at 10 am, a live video stream of the memorial site was projected on a screen at the town hall, showing the preparations, the attendees' arrival, the memorial service itself (a children's choir, speeches), the attendees' departure and the clean-up of the site.
During the return bus trip we handed out our publication, a longer-term photographic study of the memorial and its surroundings. Upon returning at the town hall the attendees could behold the live video image of the site they had just visited – now almost empty, save for their traces and the service's remains. Just as we started to present our work, you could see the snow begin to fall. The video stream ended at 12:30 pm.